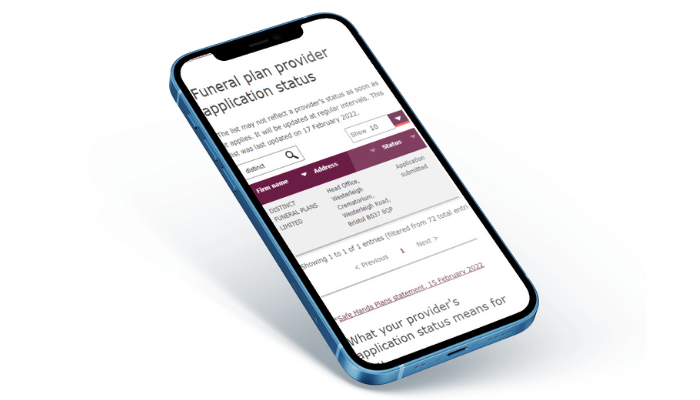 In February 2021, the Financial Conduct Authority announced that the pre-paid funeral plan sector would be regulated from 29th July 2022. Regulation of the sector has been fought for by many in the funeral industry since 2016, including Distinct Cremations' Managing Director, Steve Wallis, who lobbied for MP support and government resolution of key issues in the sector, to prioritise protection for customers.
Consumer security is paramount
Distinct Cremations, and our parent company Westerleigh Group, serve 55,000 families each year and have been established for more than 30 years. We know how important it is for plan-holders to be looked after and feel confident that their funeral plan provider is taking measures to protect their money, no matter what the future holds.
We are proud to say that we are well-managed, strongly financed and well structured. Customers can rest assured that the money invested in their plan is safe and secure and their plan will be carried out by one of the UK's largest funeral and cremation providers. To show how confident we are and to support our customers, we have made taking out a plan with us risk-free. We have removed our cancellation fees until 31st December 2022.
Steve Wallis, Managing Director said, "I am delighted the FCA are regulating the funeral plan market as I have personally been pushing for high standards and regulation since 2017."
"Distinct Cremations confirm that we applied last year (2021) to the FCA to become an authorised and regulated funeral plan provider and we are fully supportive of the FCA's move to regulate the funeral plan sector."
Moving forward beyond July 2022
Funeral Plan providers that either choose not to become regulated or are unable to gain authorisation by the FCA, will not be allowed to offer funeral plans after the 29th July 2022. As one of the largest providers of funeral and cremation services in the UK market, we are open to working with the FCA to find solutions for the customers where their plan provider is unable to continue. We will consider rescue options for consumers with plans with underfunded plan providers, providing services at substantially reduced prices or finding options that allow consumers to swop their existing plan for a Distinct Cremations funeral plan.
If you are an existing Distinct Cremations funeral plan holder or are interested in taking out one of our plans, we understand you may have questions about the new FCA regulations. Answers to common questions are below and if you have any further questions, please call us on 0808 296 7221 email us on customer.relations@distinctcremations.co.uk