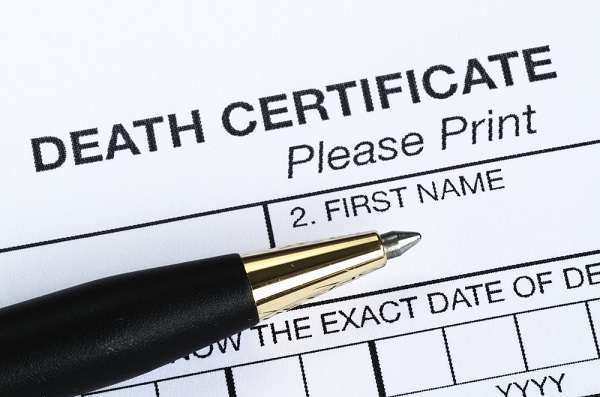 If you have lost a loved one, you'll be experiencing plenty of emotions, as well as the stress associated with organising and arranging a funeral.
There are many things to consider when arranging a funeral. How the person has died, whether they died at home, in hospital or abroad are some of the things that need to be taken into account. Once the cause of the death has been confirmed, you'll need to register the death before the funeral can go ahead.
Our latest blog will give you everything you need to know about obtaining a death certificate to arrange a funeral.
What is a death certificate?
A death certificate is a document that you obtain after registering a death in the UK. The death certificate is an essential document that's required before arranging any type of funeral, whether that's a burial or cremation.
There are different timescales for registering a death in the four nations of the UK. For Northern Ireland, England and Wales, the death needs to be registered within five days, while in Scotland, it's eight days. It's important that you register the death of a deceased person within that timeframe to avoid getting fined.
How is the green death certificate form issued?
After you've collated the documents needed to register a death, the registrar will issue you with a death certificate (green form).
There are two ways of obtaining a death certificate. The first can be to obtain a medical certificate for your loved one from a GP or doctor at the hospital, detailing the cause of the person's death. The other approach is through a register office, which requires further documentation in order to obtain the death certificate.
Some of the documents required to get a death certificate through a local register office include:
Driving licence
Passport
Proof of the deceased person's address (bank statement or utility bill)
Birth certificate
Obtaining the death certificate is free, although you will have to pay for any additional copies. If you are dealing with a loved one's finances and estate, photocopies are not accepted by insurance, legal and finance companies.
Having certified copies of death certificates can make the finances and estates process slightly quicker. In terms of obtaining a certified copy of a death certificate, it depends on where you're based in the UK.
For example, in England and Wales, there are a few ways of getting a copy of a death certificate. You can order a copy online or over the phone through the General Register Office or by post through an online application form.
The prices for death certificates vary, depending on where in the UK you are based. In England and Wales, it's £11, £8 in Northern Ireland and £10 in Scotland.