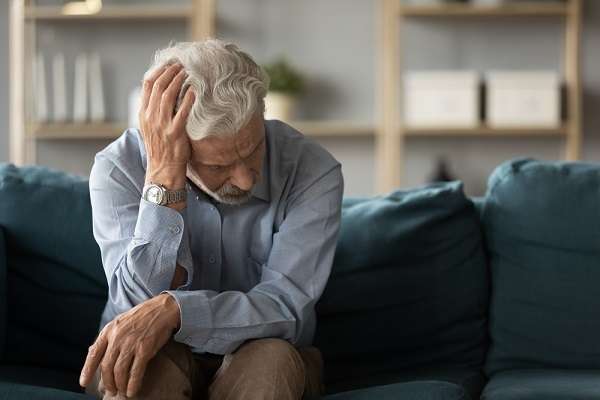 Stress in grief
Conceptualising grief is tough. You may have heard of the 5 stages of grief, which can come in any order at any time. But even the 5 stages of grief doesn't do a complete job of describing what it is and how it can manifest.
So when trying to zero in on stress at the time of grief, it can be quite tough. Often it can feel like the same thing, and each stage of grief can build up to create a more intense level of stress.
Building on from the two models of thought we spoke about in the last section, it's likely that the stress will arise from both the situation and the way we feel about ourselves.
Of course, the main thing we're likely to be affected by is the emotional distress of losing a loved one, and this intense emotion can quite easily combine together with a feeling of being unable to cope with the loss, and therefore a resulting lack of self-worth which later manifests as stress.
Another way stress can manifest is through a potential change in circumstance, like having to adjust to living without someone beside us to cheer us up, or even no longer having someone to share responsibility with for something straightforward like household chores.
Just because something may seem insignificant compared to a death, it doesn't mean it won't affect our psyche. And it's often the little things that build up together which makes the stress begin to feel intolerable.
Later there could be pressure from family, friends or work to get over the grief too, which could lead us to lash out at ourselves for not feeling better. This pressure can turn itself internally and build up resentment towards ourselves and create a lack of self-worth.
Dealing with the stress in grief
The way we talk to ourselves during our grief is what is most important.
It's not always easy to remain calm and considered during intense times of sadness, emotional distress and grief, but the best thing we can do is remain compassionate towards ourselves.
The internal monologue that we have inside our minds has a huge influence on the way we perceive ourselves along with certain situations and scenarios, and it's important that no matter what external pressures come following the result of a death, that we remain kind to ourselves. That we're not too demanding ourselves and we're not overly critical.
If we can too, it's important that we seek out healthy environments and situations. Avoiding people and scenarios that provoke negative feelings or stressful situations, and instead, finding places that nourish our minds and our body.
This could be simple things like practising our favourite hobby, listening to our favourite music, or being around our favourite people. Or it could be meditating, journaling, or baking.
Of course, at times of grief, it's easy to feel guilty when enjoying ourselves, but there is no expectation to continuously feel down. Sadness may come and go, it's important to not run away from it. But it's also important not to remain attached to it.
More than anything, our loved one would want us to be happy in their absence. And in times of grief, it's important to go out there and seek it.
We have the knowledge and experience to help and support you through a difficult time. We can provide a wide range of information on the grieving process and bereavement. Contact us for more.